Alison Rogers, Ed.D. LPC, RYT
The problem with being a parent is that by the time you are experienced, you are unemployed. —Author Unknown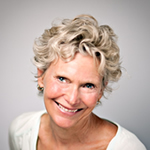 For many years I had the honor of working closely as a therapist with young parents. It was during those intimate conversations with parents in the therapy room that I began to realize the enormous responsibility that parents have, often without the adequate support of family and community. My own experience as a parent only reinforced that understanding. My meditation and yoga practice helped me so much as a mother and as a therapist that I became a certified yoga instructor, and the Yoga of Parenting was born.
In the beginning though, I was a young mother with two active young sons and a husband who worked long hours.  We moved to a new town in western Massachusetts where I knew no one. I felt  isolated and frequently depleted. I turned to yoga. I went to a beautiful yoga retreat center in the Berkshires for one day at a time, a few times a year. I returned home feeling restored and then promptly reverted to my depleted state until my next sojourn. I followed this pattern for years and it helped, a little, but the feeling of calm confidence was elusive day to day. I had a third son, juggled work, doctoral studies, mothering and marriage. I loved my kids; I thought they were the most amazing boys in the whole wide world. I worried about them. Sometimes I yelled at them and then felt horrible. My inside voice, frequently critical, told me "be a better mother, just try harder".  There was plenty of advice about how to be a better parent, how to give a better birthday party, how to discipline your child.  I wish I knew then what I know now. That being kind to oneself is far more beneficial for everyone than is heavy handed self-judgement. I wish that what I had all those years ago was a nurturing, restorative home practice supported by a community of other mothers and a teacher who was nurturing and kind, and who knew how it felt to spend long hours caring for young children.
Many years later, as my sons became more independent, I had more time to devote to yoga and meditation. As a family therapist, I began to integrate mindfulness and self-compassion practices into my work. Parents found the tools very helpful.  In 2010 I went back to Kripalu, this time for my yoga instructor training. It was that experience that inspired me to develop The Yoga of Parenting.
I currently live in Boulder, Colorado, cradled by the mountains to the west, and open to the expansive plains to the east. My sons have grown up into happy and productive young men. I'm continually grateful to all the teachers who've inspired me: Randal Williams and Jovinna Chan, Peter Williams, and Laura Kupperman.The many gifted yoga teachers in Boulder, and, of course, my children. They all taught me that, to be kind and compassionate in the world, I first have to be kind and compassionate to myself. This education is ongoing.
I enthusiastically dedicate myself to supporting young parents everywhere, as they learn to nurture themselves and their children.